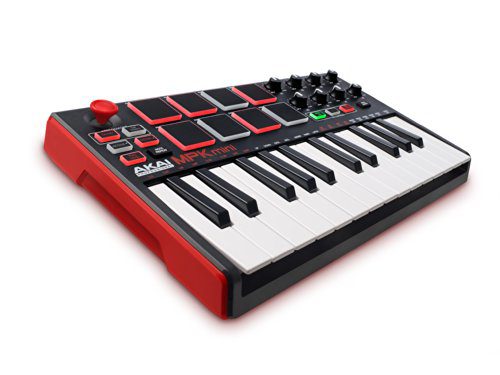 buy now

$99.00

The new MPK Mini MKII is an ultra-compact keyboard controller designed to easily fit in the laptop-toting musician's backpack and still earn its spot on the desktop producer's crowded table space.
For maximum portability, the MPK Mini MKII requires no software drivers or external power adapter for operation. It supports plug-and-play connectivity, features USB-MIDI, and powers up with a single USB connection to your computer.
With an array of hardware controls, the MPK mini MKII lets you record, compose, and perform with virtual instruments, effect plugins, and Digital Audio Workstations whenever inspiration strikes.
It features 25 velocity-sensitive synth-action keys, a 4-way thumbstick for dynamic pitch and modulation manipulation, 8 backlit velocity-sensitive MPC-style pads, and 8 assignable Q-Link knobs. Plus, two banks expand the number of MPC-style pads to 16 for extended creative capabilities.
The MPK mini MKII includes all the essentials for quickly laying down and expanding upon your musical ideas.
Finally, it comes bundled with professional production software and virtual instruments free downloads for immediate music creation.
Frequently Asked Questions
What software comes with the Akai MPK Mini?
The Akai MPK Mini comes with the following software:
Akai Pro MPC Essentials
SONiVOX Wobble 2
AIR Hybrid 3
Preset Editor Software
How do I get my software?
Go to akaipro.com/my-account
Login to your Akai Pro account. If you do not have an account, Create one.
Once you have logged in or created your Akai Professional user account, choose Register a Product.
Enter the requested information to Register your MPK2 series controller and press Submit.
Once you have Registered your MPK2 Series controller, you can now find the downloads for the various included software within the My Account section.
What operating systems is it supported with?
The Akai MPK Mini is supported on the latest operating systems, including Windows 8 and Mac 10.9. The MPK Mini is a class-compliant plug-and-play device that does not require a specific driver installation in order to be functional and will function with all major Windows and Mac operating systems from Windows XP, Vista and 7 to Mac 10.4 and later.
Is it powered by USB or wall power supply?
The Akai MPK Mini is USB hub powered. It connects and powers by a standard USB-A to USB-B cable and does not require a wall power supply.
What are the differences between the MPK Mini MKI and MKII?
Some of the major additions and changes to the Akai MPK Mini are:
Features a 4-way Pitch Bend and Modulation joystick. This joystick has three assignable modes, including:

Pitch Bend – Up, down, left and right
Modulation 1 – There is a single CC per axis. The center CC is at 64 and the joystick modulates on the axis of choice.
Modulation 2 – There are two CCs per axis. The center axis is 0 and the endpoint CCs on each axis can be set by the user with the included preset editor.

Connects via standard USB-A to USB-B cable rather than a mini-USB to USB-B cable.
Features a Noterepeat and Full-level button option.
Contains a 1/4" Sustain pedal input for standard momentary non-latching foot-switch functionality.
The 8 velocity-sensitive pads have back-lit red and green coloring.
Can I change the default presets?
Yes! There are four built-in presets that can be chosen in the controller. These presets can be edited, adjusted and uploaded to the MPK Mini using the included preset editor.
Wait! What if I still have more questions?
Don't worry! You can watch step-by-step tutorials in the Related Video Shorts below or visit akaipro.com/kb/search/MPK_Mini for more detailed FAQs.
Technical Specs
Note Keys: (25) velocity-sensitive mini keys
Pads: (8) assignable backlit pads, velocity- and pressure-sensitive
Pad Banks: (2) banks
Knobs: (8) assignable 270º knobs
X-Y Controller: (1) configurable thumbstick with 3 modes
Octaves: 10-octave range with octave up/down buttons
Arpeggiator: adjustable resolution, range, and modes
Additional Controls:

Note Repeat button
Full Level button
Tap Tempo button

Inputs / Outputs

(1) USB port
(1) 1/4" (6.35mm) TS input for sustain pedal

Power: USB power via full-size USB jack; no power adapter required
Dimensions (width x depth x height):

Product: 12.5" x 7.13" x 1.75"
Shipping: 14.3" x 8.64" x 2.9"

Weight

Product: 1.65 lbs
Shipping: 2.43 lbs
Box Contents
MPK mini
USB Cable
MPK mini Editor (download)
Software Download Card
User Guide
Safety & Warranty Manual
Compact keyboard controller easily fits backpack and studio production desk (12.4″ long, 1.6 lbs)
Powered by USB connection to computer, with free virtual-instrument download packages
Crammed full of all the features you need to play and edit musical ideas
25-synth-action mini-keys, 8 velocity-sensitive rubber drum pads with two banks, and eight assignable control knobs
Dedicated buttons for Note Repeat, Full Level, and Octave Up and Down