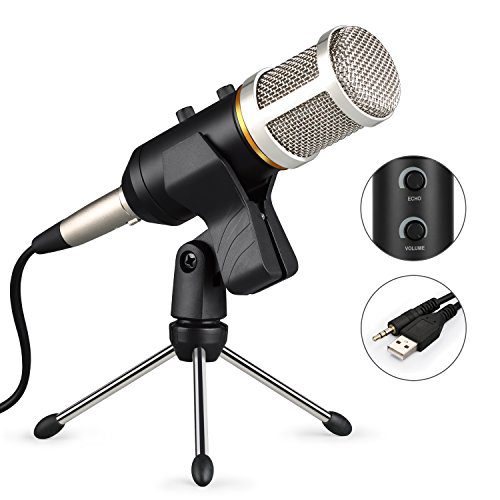 buy now

$59.99

Features of WOQI Microphone:
1. This is a collection of microphone amplifier and reverberation regulating function in the integration of professional condenser microphone.
Which is specially designed for computer recording and network PK song.
2. The WOQI microphone needn't install driver without complicated debugging, it has 3.5mm computer Micro audio plug, no need switch, plug and play.
Adopts USB terminal power supply, no need 48V Phantom Power. This microphone is very easy to use for family party, chat room and voice work.
3. 1+2 years two kinds of comprehensive guarantee service is pretty humanized, needn't worry about quality problem or usage issues.
Specification:
Material: Metal
Sound Head: Capacitive
Frequency Response: 30Hz-20KHz
Directivity: Heart-shaped(1KHz>12db)
The loudest level: 120dB S.P.L
Signal to noise ratio: 70dB
Sensitivity: 25mV/Pa(-32dB±2dB)
Words Put Function: +1dB±25dB gain is adjustable
Audio Output Line: Ø5mm x 3m
USB Cable Plug: 3.5mm gold-plated
Power Supply: USB DC5V power supply
The Minimum System Comfiguration:
CPU: Intel P4 1.6 GHz
Memory: 512MB
Hard Disk: 500M
Graphics: On board video card
Sound: On board sound card, Microphone input, Monitoring function
USB interface: Free USB interface
Network Band Width: 512K
Listening Devices: Monitor Headphones
Package Content:
1 x Microphone
1 x Cable
1 x Tripod Holder
1 x Clamp
1 x Dust Gauze
1 x User Manual
NOTE:
The microphone can't be used with mobile phone, tablet, laptop or Mac.PERFECT REVERBERATION EFFECT: This condenser microphone is equipped with super built-in reverberation chip to realize real hardware reverberation. While you are singing simply adjust the ECHO reverberation rotary knob, you can get the perfect reverberation sound effect.
SUPRAMAXIMAL SOUND VOLUME: Our broadcasting microphone is equipped with front-load professional amplifier chip. You can adjust the VOLUME rotary knob to increase 25 times sound volume, No longer occurs small voice issue from common integrated sound card.
EASY TO USE: The recording microphone designed by standard 3.5mm computer microphone audio cable plug, no need switch, plug and play. No need install driver, without complicated debugging, you can quickly start recording. Very great for recording narrations, podcasting.
USB TERMINAL POWER SUPPLY: This studio microphone adopts USB terminal power supply, no need sound console, HPA, or 48V Phantom Power. Especially fit for voice work.
100% GUARANTEE SERVICE: If there is a quality problem without artificial damage, you can enjoy 1 year replacement and 2 years warranty from WOQI.