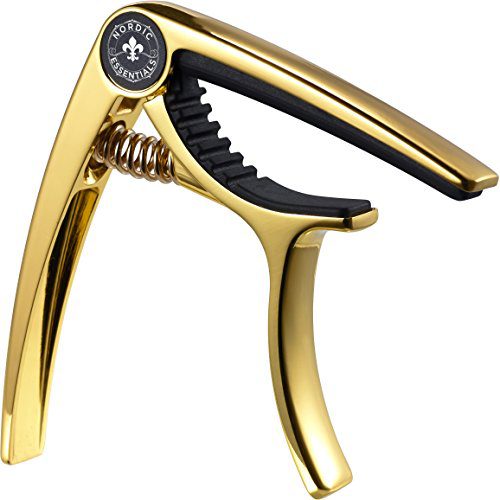 buy now

$38.95

GUITAR CAPO DELUXE – Made of Premium-Grade Zinc Alloy – When only the best is good enough!
Luxury Capo at an Affordable Price
– A «Must Have» for your acoustic, classical & electric guitar, ukulele, bass, banjo and mandolin
Guitar Capo Features
– Ultra Portable, Easy to Use with 1 Hand and Extremely «Luxury Feeling»
– Designed to Fit Different Instruments (Guitar, Ukulele, Banjo, Bass, Mandolin)
– Suitable for Most 6-String and 12-String Instruments
– Extra Stabilized Industrial Features
– Silicone Pads for Instrument Protection
– Fits Easily in Carry-on Luggage – Perfect for Travel, Home, Work and Studio
Product Specifications
• Body Made of Premium-Grade Zink Alloy
• Steel Spring With Lifetime Warranty
• Protective Silicone Pads
• Weight: 2.1oz (59g)
Inside Package
✓ 1 Guitar Capo Deluxe
✓ 1 Carry Pouch
✓ Instructions Manual
✓ Comes in Nordic EssentialsTM Packaging
PATENT ON BOTH UTILITY MODEL AND INDUSTRIAL DESIGN
Our Guarantee
We are so confident in our Nordic Essentials premium guitar and instrument accessories that we offer a lifetime manufacturer warranty for defects.
Click Click the Add to Cart Button at the Top of this Page Now to Enjoy This Luxury Guitar Capo!Guitar Capo Deluxe from Nordic Essentials™ – Premium Capos for Acoustic, Electric & Classical Guitar, Ukulele, Bass, Banjo & Mandolin
Quickly and Easily Releases and Repositions With One Hand Without Disturbing Tuning
Luxury Feeling and Durable Capo Made of Premium-Grade Zinc Alloy (Weight: 2.1oz)
Package Includes: 1 x Guitar Capo Deluxe, 1 x Carry Pouch and Instructions Manual
Comes with an Unbeatable Lifetime Warranty!