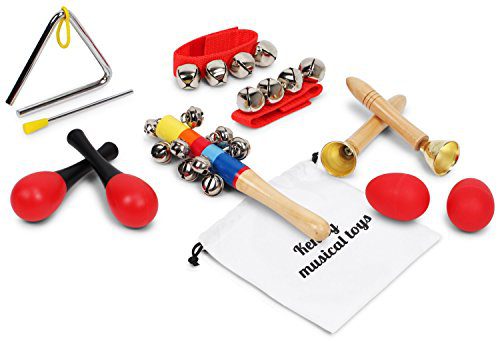 buy now

$23.95

Musical instruments for young children
Designed for children ages 3 and up, each piece of the Kenley Musical Instrument Set is durable, fun to use and has few small parts. Musical instruments are an ideal toy as they not only help children develop their rhythm and musical skills, but can also boost attention levels, memory, motor and creative skills. Siblings and friends love to play together, and these Kenley musical instruments give kids plenty of choice.
Explore percussion and rhythm
Encourage children to develop their love of music by exploring different instruments. You can show them that there are so many ways to make music! Each Kenley set features 6 different instruments that are easy for children to master. Percussion and chime instruments, like the maracas and triangle, let kids work together or separately to build up a sense of rhythm.
Play and learn together
This set is a great choice for a classroom or party as each child can have their own instrument. There are lots of fun and educational activities to choose from. As an example, you can play musical statues with each child dancing and playing their instruments in time to the music or pretend to be a band and play along to a favourite tune. Kenley Musical Instruments make great gifts and are also ideal for a party bag or stocking filler.
The set includes:
2x maracas
2x wrist bells
2x hand bells
1x wooden shaking bell
1x triangle
2x egg shakersRhythm and percussion music instruments for children
Develop essential music skills in a fun way
Perfect present or party bag gift
Educational toys suitable for classroom use
Non-toxic materials and few small parts