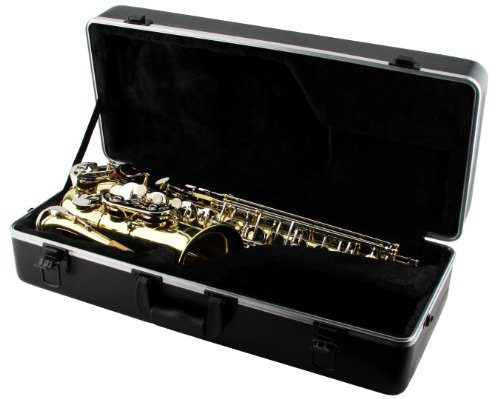 buy now

$399.99

For over a decade, LJ Hutchen has provided quality, consistency, and exceptional service to countless musicians throughout the world. LJ Hutchen constantly strives to improve its product-line and offer the best value possible. Sharing numerous attributes with more expensive brands, LJ Hutchen is an outstanding value. Since many educators consider LJ Hutchen to be the perfect choice for student musicians, high quality is not only necessary but is imperative for successful music education. As with all models, its price and warranty terms are unbeatable.
The LJ Hutchen Eb Alto Saxophone is considerably different from others in its class. An excellent option for the serious student musician, this saxophone provides an alternative to some of the more expensive brands without sacrificing quality. This easy-playing and durable saxophone possesses many features that will enhance intonation, playability and overall performance. Every instrument is double-bench tested, and must meet the most stringent level of quality prior to sale.
For further information on this instrument or any other LJ Hutchen product, please visit the official LJ Hutchen website at www.ljhutchen.com.
The LJ Hutchen Eb Alto Saxophone Features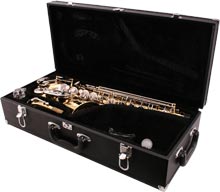 Key of Eb (E-Flat)
The LJ Hutchen Alto Saxophone is in the key of Eb. The majority of student musicians learn to play on an alto saxophone, and some will later switch to tenor, baritone, or soprano saxophones.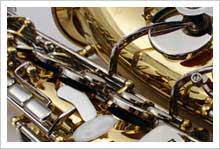 Heavy-duty brace to prevent misalignment
It is no secret that students and young musicians are not always as careful as they should be with their instruments. While no instrument is impervious to damage, our heavy-duty bracing system helps prevent misalignment that can occur from heavy use or from getting knocked around.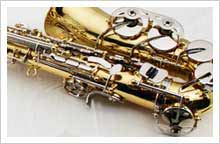 Ergonomic thumb-rest
The thumb rest offers the right-hand thumb a point of reference, allowing the right-hand fingers to be placed easily and correctly on the keys. The thumb rest on the LJ Hutchen Alto Saxophone was designed for ultimate alleviation and comfort.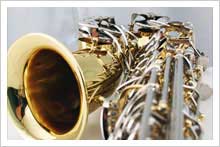 Carefully designed pinky keys to accommodate young hands
While all alto saxophones have a similar size and shape, not all share identical key layouts. We've taken extra care in designing a pinky-key configuration that is easy to reach with small hands, but won't impede upon players with larger hands.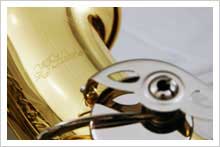 Specially treated pads for durability
The function of a saxophone pad is to cover the tone hole and seal air into the horn, for an easy and accurate response. LJ Hutchen saxophone pads are specifically treated to resist moisture and every day wear and tear. .
Comprehensive 2-Year Warranty
Each and every LJ Hutchen instrument comes with a comprehensive 2-Year Warranty. The warranty covers everything except damage from neglect, theft, or loss.  In some cases, if warranty work is required within 30-days of receiving your instrument, we will exchange it for a new one (including shipping both ways). After 30-days, the instrument can be mailed to us for repair. Our repair department will repair and return your instrument within 24-hours, which allows us to achieve a turn-around time comparable (if not faster) than a local music store.  Free adjustments and maintenance are also covered throughout the warranty cycle.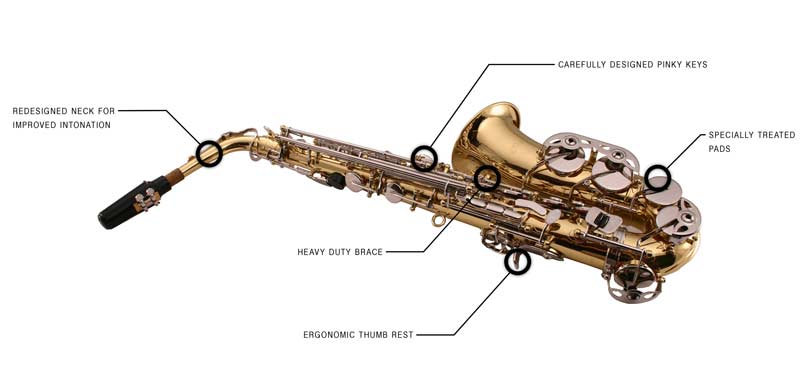 Prior to Shipment:
Prior to shipment, every LJ Hutchen instrument is meticulously inspected by one of our certified technicians. Quality control is of utmost importance before approval. Once approved, each instrument is carefully packed and prepared for shipment. These procedures ensure that you receive a perfectly playing product upon delivery.
Eb Alto Saxophone
Detailed Specifications

Level
Standard
Key
Eb (E-Flat) with high F#
Neck
Standard
Neck Material
Yellow Brass
Body Material
Yellow Brass
Bell Material
Yellow Brass
Key Material
Yellow Brass
Key Buttons
Plastic
Finish
Nickel-plating (keys), Clear baked epoxy lacquer (body)
Tone Holes
Drawn
Auxiliary Keys
Front F
Spring Type
Blued Steel
Pad Type
Waterproof leather, woven felt, domed metal resonator, cardboard back
Pad Type
Double bladder skin, semi-pressed felt, cardboard back
Thumb Hook
Adjustable metal
Pivot Screw
Straight-tapered, headed
Mounting
Post-rib construction
Included Accessories
LJ Hutchen mouthpiece kit (Made in the USA)
LJ Hutchen cork grease
Nylon neck-strap
Traditional Rico Reed (Strength #2)
Polishing cloth
Plush-lined hard case (Made in the USA)