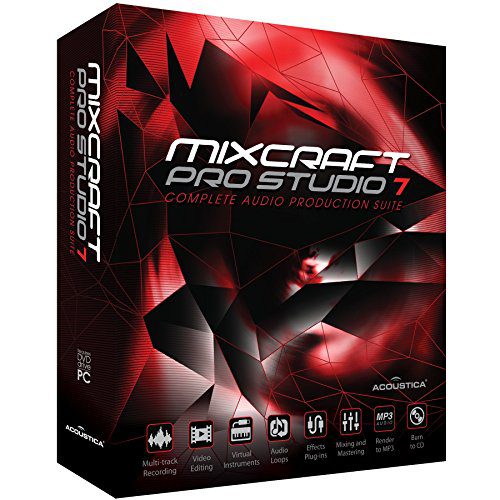 buy now

$164.95

Mixcraft Pro Studio 7 is a powerful music production and multi-track recording workstation with over 8900 music loops and dozens of audio effects and virtual instruments. Record audio, arrange loops, remix tracks, score and edit video, and mix and master tracks to create polished, professional compositions. Take to the stage with automatically synced, non-stop audio and MIDI clip grooves using the amazingly flexible new Performance Panel, the perfect partner live performances. Turn your computer into a fully-stocked professional music production center, live or in the studio! Mixcraft Pro Studio 7 adds painstakingly modeled virtual analog and digital professional synthesizers. Memory moon is a spot-on recreation of the Moog Memory moong's crushing analog fatness. ME80 Version 2 is a killer model of the classic Yamaha CS80 synthesizer, now with a gorgeous new user interface and a whole new sound engine. Glass Viper takes its inspiration from classic 80s and 90s digital synths and offers unique wave shaping a deep and natural sense of movement. Pianissimo is an incredibly playable and realistic virtual piano. Combining 250 MB of high quality Steinway Model D piano samples with advanced physical modeling, Pianissimo recreates the warmth, response, and playability of a real grand piano. Add a professional sheen with isotope Mastering Essentials suite. EQ to perfection with TB Parametric EQ or GSXL4070 Parametric, replicating the equalizer section of one of the world's most coveted mixing consoles. Impart analog tape compression and punch with Ferro Tape Emulator. Create banging' dance remixes with SideKick6 Side chaining Compressor.Free upgrade to Mixcraft 8 Pro Studio (coming soon!)
Record multiple MIDI and audio tracks simultaneously. Trigger auto-sync audio and MIDI clip grooves live or in the studio with Performance Panel.
Loop library includes over 8900 royalty-free loops and samples in all styles. 18 pristine sounding virtual instruments, two new samplers, Alpha and Omni, and 52 professional audio effects.
One-click publishing of music and videos directly to YouTube, Facebook, Sound cloud, Mix cloud, Vimeo, and Twitter. Burn directly to an audio CD!
Load and edit video files and still images with ease. Render complete video projects to popular mats DVD creation or YouTube upload.