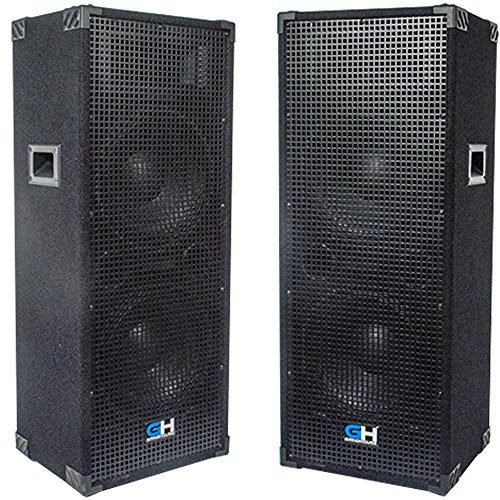 buy now

$234.99

These speakers are ideal for Bands, DJs, KJs, Churches and Venues
• Passive
• 1250W Peak
• 12 Inch Woofers
• 4 Ohm
• 50Hz to 20kHz Frequency Response
• 96dB Sensitivity
• 15″ x 38″ x 12″
• 44 Pounds
The GH212L is a 2 way passive loudspeaker built from dual 12 Inch High Output Mid/Low Ribbed Cone Woofers and a 1.5 Inch High Temp Multi Layer Copper Voice Coil mounted on a Wide Dispersion High Frequency 1 Inch Horn Tweeter for the highest quality sound. These components are housed in computer engineered MDF Acoustic Enclosure to get the most out of your speaker. The low end is enhanced by a Tuned Bass Reflex Enclosure to maximize the boom. The cabinet is made sturdy with heavy duty ABS handles and impact resistant ABS Corner Guards to make it road worthy. The covering is rugged Aviation Grade Carpet to help prevent tears and stains. A steel mesh screen is installed to prevent damage to the speaker and horn.
The GH212L is rated at 625 Watts RMS and 1250 Watts Peak to get maximum volume from this cabinet. It is wired at 4 ohms. Two parallel inputs are provided. Spring loaded Speaker Wire Terminals and Flush mounted 1/4 Inch TS Speaker Cable Jacks provide options for signal and power routing.
A quantity of 1 purchase will get you 2 speakers. Purchase 2 and you will receive 4 speakers. 3 gets you 6 speakers and so on.
625 Watt RMS 1250 Watt Peak
50Hz to 20kHz Frequency Response
96dB Sensitivity
15″ x 38″ x 12″
44 Pounds