Neewer Professional Studio Broadcasting Recording Condenser Microphone & NW-35 Adjustable Recording Microphone Suspension Scissor Arm Stand with Shock Mount and Mounting Clamp Kit, Blue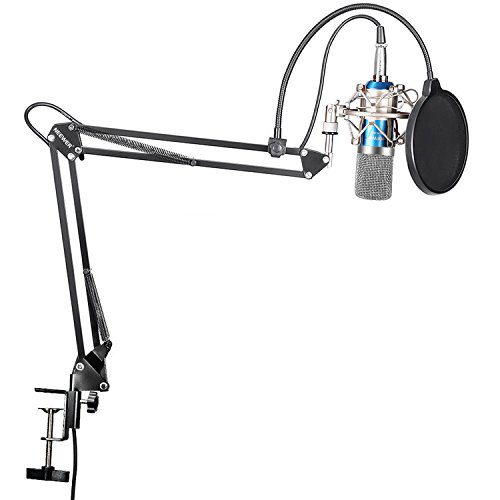 buy now

$35.99

Description:
*PLEASE NOTE: Sound Card, 48V Phantom Power, 1/4″ to XLR Cable & XLR to XLR Cable are needed to purchase additionally.*
NOTE:
1.The Condenser Microphone only works with the device that could provide enough power(Voltage Required:5V) for it.
When connected with desktop computer, the Microphone could be used alone;
When connected with laptop computer, please connect the laptop to electrical outlet, or use a 48V phantom power to get enough power if the sound is not clear and high enough.
2.If your device could not provide enough power(when used with Amplifier or Mixer, etc.), the sound volume recorded might be low, and please use a extra 48V phantom power adapter to connect it.(phantom power adapter is not included).
3.The microphone can not be used with mobile phone and tablet computer. *NOTE: It cannot work with Mac.
4.If you want better sound effect, a sound card should be used.
5.When recording, please put the microphone away from the amplifier to prevent recording noise due to amplifier.
(1)NW-700 Condenser Microphone, Blue
Has a cardioid pick-up pattern that isolates the main sound source and minimizes background noise, highlighting the performance with smooth frequency response range for best vocal.
Low noise, wide dynamic range, high sensitivity output.
Material: Metal
(1)NW-35 Scissor Arm Stand
*Max load: Approx 35oz/1KG*
Double-braced arms equipped with super-strong spring. Adjustable angle & height to show your perfect voice.
Material: Steel
Extend up to 31.5″/80cm.
(1)Pop Filter
(1)Metal Shock Mount
(1)Ball-type Foam Cap
(1)Table Mounting Clamp
(1)3.5mm Male to XLR Female Cable:
Length: 8.2ft/2.5mThe kit Includes: (1) Condenser Microphone + (1)Adjustable Suspension Scissor Arm Stand + (1)Table Mounting Clamp + (1)Metal Shock Mount + (1)Pop Filter + (1)Ball-type Anti-wind Foam Cap + (1)3.5mm Male to XLR Female Cable. *PLEASE NOTE: Sound Card, 48V Phantom Power, 1/4″ to XLR Cable & XLR to XLR Cable are needed to purchase additionally.*
The professional condenser microphone adopts the completely new audio circuit. Capture rich, full-bodied sound from sources that are directly in front of the mic. The cardioid pick-up pattern minimizes background noise and isolates the main sound source
The adjustable scissor arm stand is made out of all steel construction, sturdy and durable. Folding type, convenient to carry. Can be mounted on the announcers' table. The double-braced arms add strength. *Max load: Approx 35oz / 1KG*
The microphone wind screen pop filter mask shield can ensure that your tracks are audible and easy to understand.And also it will make sure your message loud and clear, and banish the dreaded hissing and lisping sounds
The metal shock mount features an angle adjustment with locking knob and can effectively reduce handling noise. The ball-type anti-wind foam cap can protect microphone against wind interference and singers' spit.The microphone can not be used with mobile phone and tablet computer. NOTE: It cannot work with Mac
Relacionado